ABOUT EMIRATES PRINTING PRESS
Emirates Printing Press commenced operation in 1988 and has successfully established a reputation in the region as one of the most reliable printing houses in terms of quality, pricing standards and value added services.
The press is managed by a team of professionals with adequate technical and managerial experience.
A LEGACY OF OVER 3 DECADES
A Customer Centric Print Services Company
Emirates Printing Press is one of the leading commercial printing houses in the UAE.
Emirates Printing Press stresses the importance of customer happiness, vendor satisfaction, employee well being and investor benefit. Emirates Printing Press pursues the effort of strengthening these four pillars as it considers them as the base of its core existence. And it's this realization that helped Emirates Printing Press to be one of the most sought-after printing presses for clients, job hunters, and vendors.
Emirates Printing Press has established a strong and loyal clientele which includes multi- national business houses, local and international banks & financial institutions, major courier, freight & shipping companies, 5 and 7 star hotels, reputed universities, government organisations and petroleum companies. Most of them have been with Emirates Printing Press for over a decade.
Emirates Printing Press can undertake multicolor jobs up to 50/70 formats with coating.  And most of our printing machines are by Heidelberg, the world leader in quality printing machines. For print finishing, the floor is well equipped with machineries that can do collating, laminating, spot UV, numbering / perforation, foiling and gluing / pressing, perfect binding and booklet making etc.
Emirates Printing Press undertakes all kinds of commercial printing jobs like printing of stationeries, marketing materials like posters, flyers, stickers, brochures, booklets, magazines etc. on paper, vinyl and acrylic. The print products also include calendars, small packaging and digital printing.
Print Management Solutions
Larger companies require total print management solutions under annual contract arrangement to facilitate deliveries of essential stationery items on short notice by maintaining a small buffer stock at shelves – Emirates Printing Press is managing print solutions for a number of major companies in the region. No need to look further if you are looking for comprehensive print management – from sourcing, procurement, production, storage and supply – Emirates Printing Press will take care of the entire printed marketing lifecycle.
Emirates Printing Press's own delivery team usually takes care of all deliveries except some cases, where third party logistics team step-in for assistance.
ISO 9001:2000 certified since 2001, Emirates Printing Press is now certified for Integrated Management System and received ISO 9001:2015 Quality Management and has ISO 14001:2015 Environmental Management Certificate from UKAS Management Systems – UK National Accreditation Body.
Emirates Printing Press has been awarded the Strategic Suppliers Recognition 2011 by ENOC Group.
Some of previous achievements and accolades Emirates Printing Press has won are as follows:
Felicitated by Ajman Chamber of Commerce and Industry for its Quality Standardisation
Ajman Industrial Excellence Award – Gold in the Small Local Industrial Category by Ajman Chamber of Commerce and Industry.
Best supplier award in and Strategic Supplier Recognition award by Dubai Airport Free Zone Authority (DAFZA).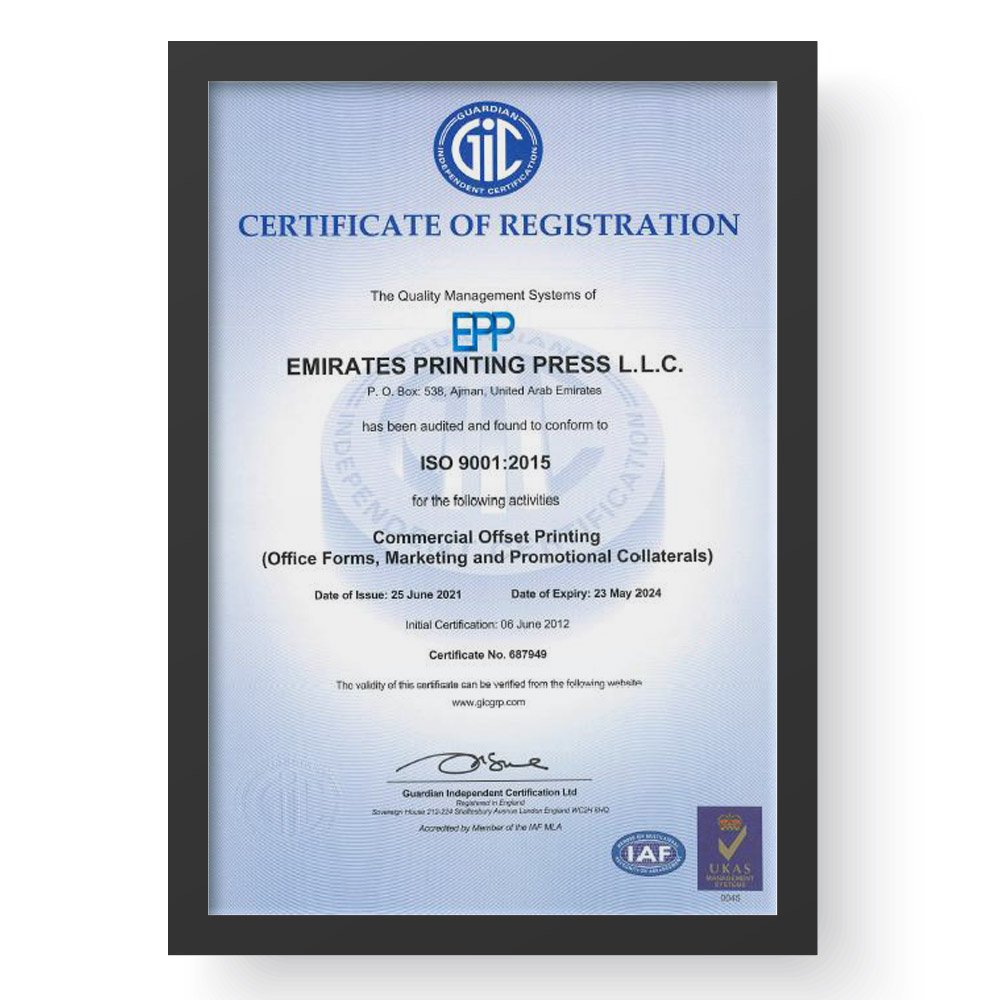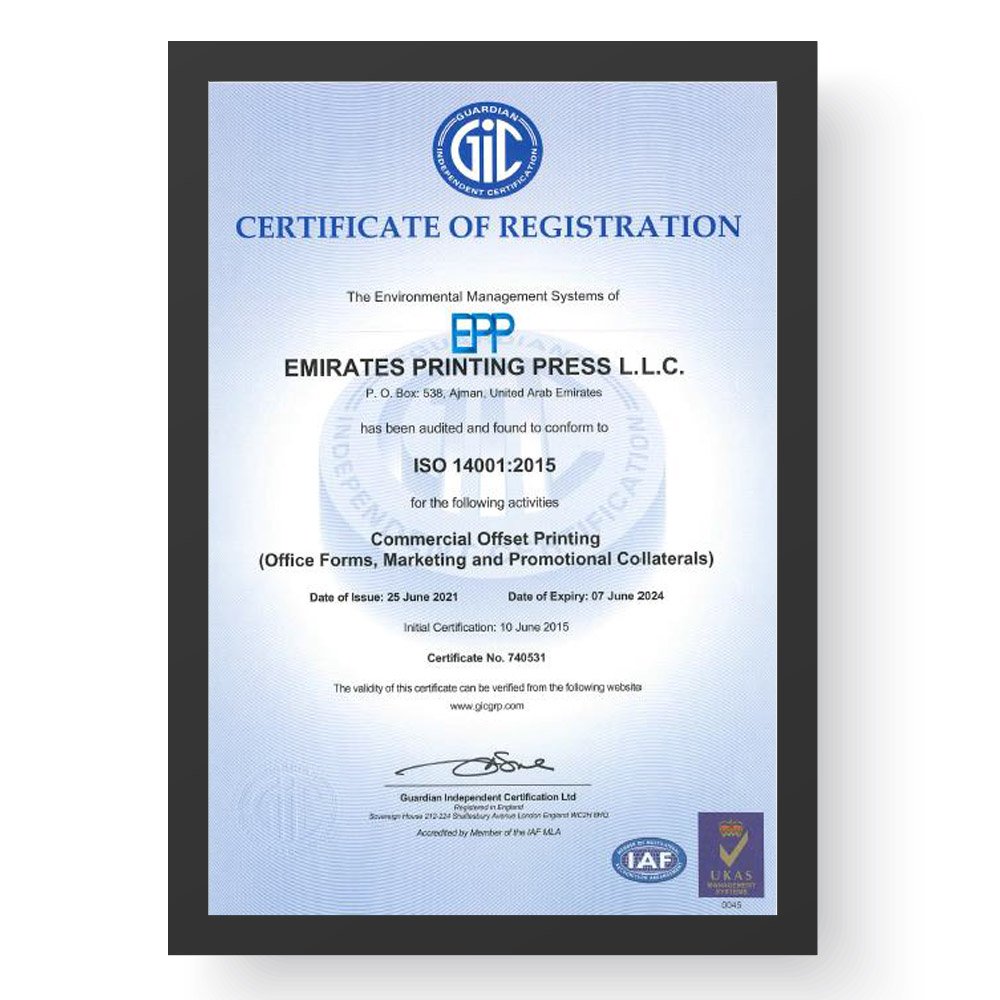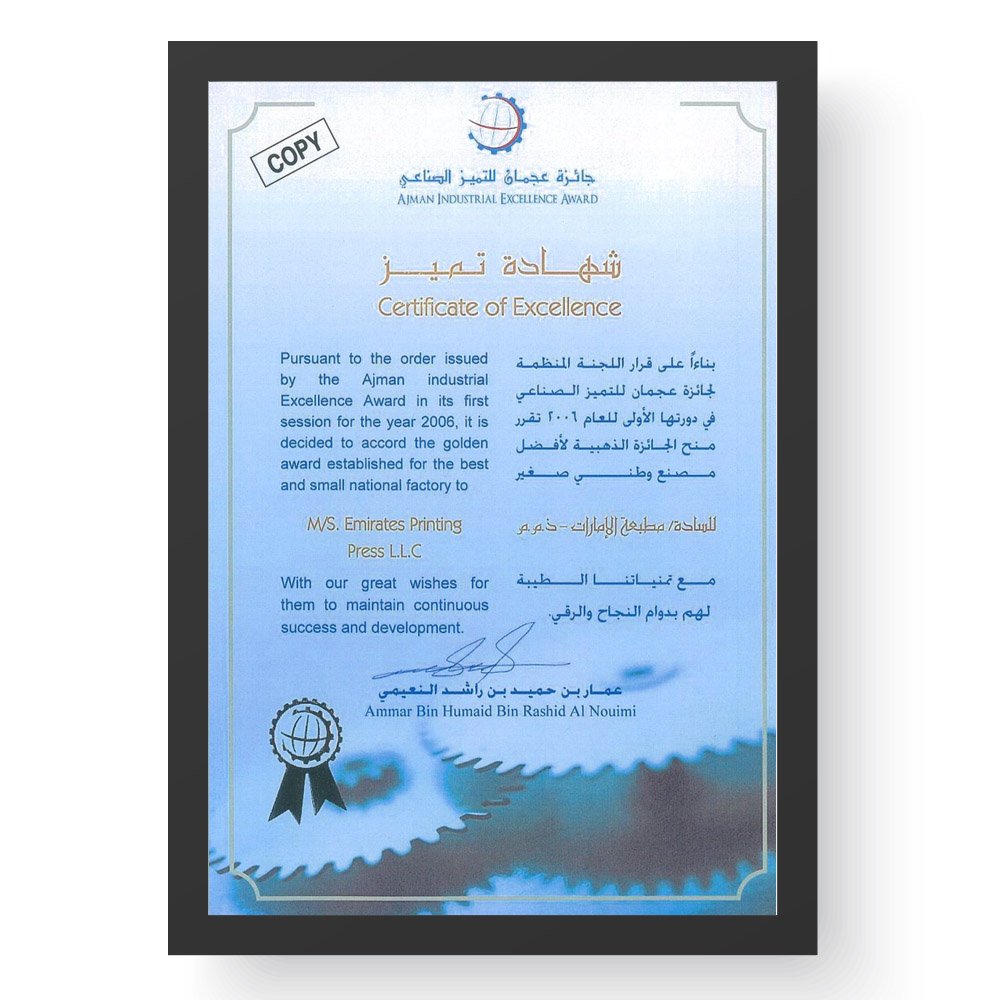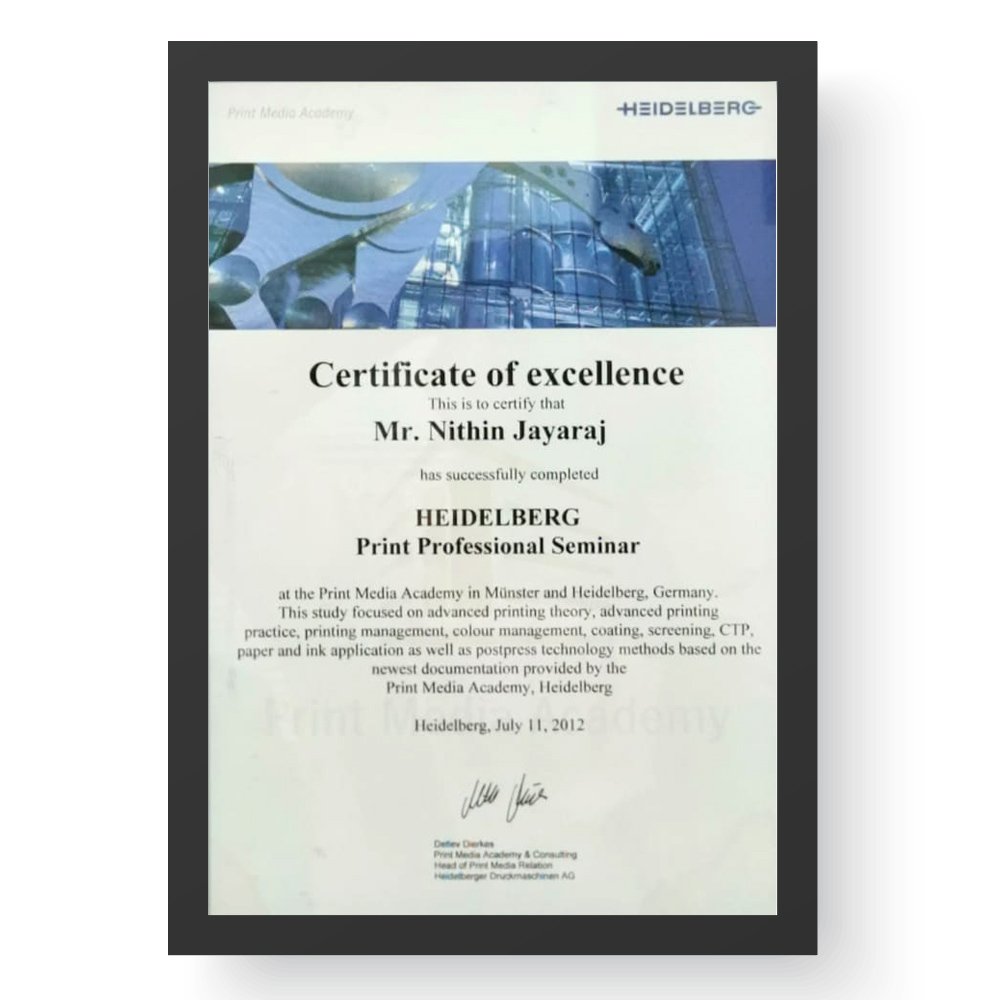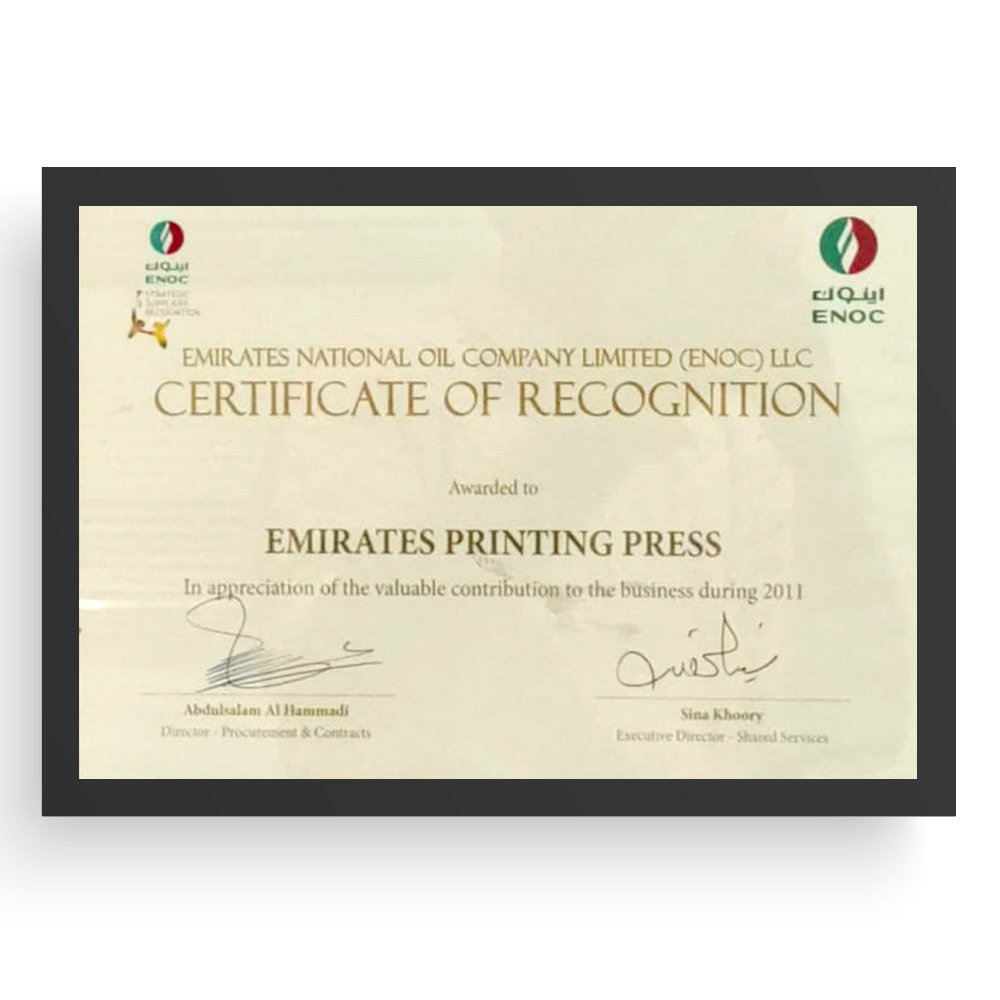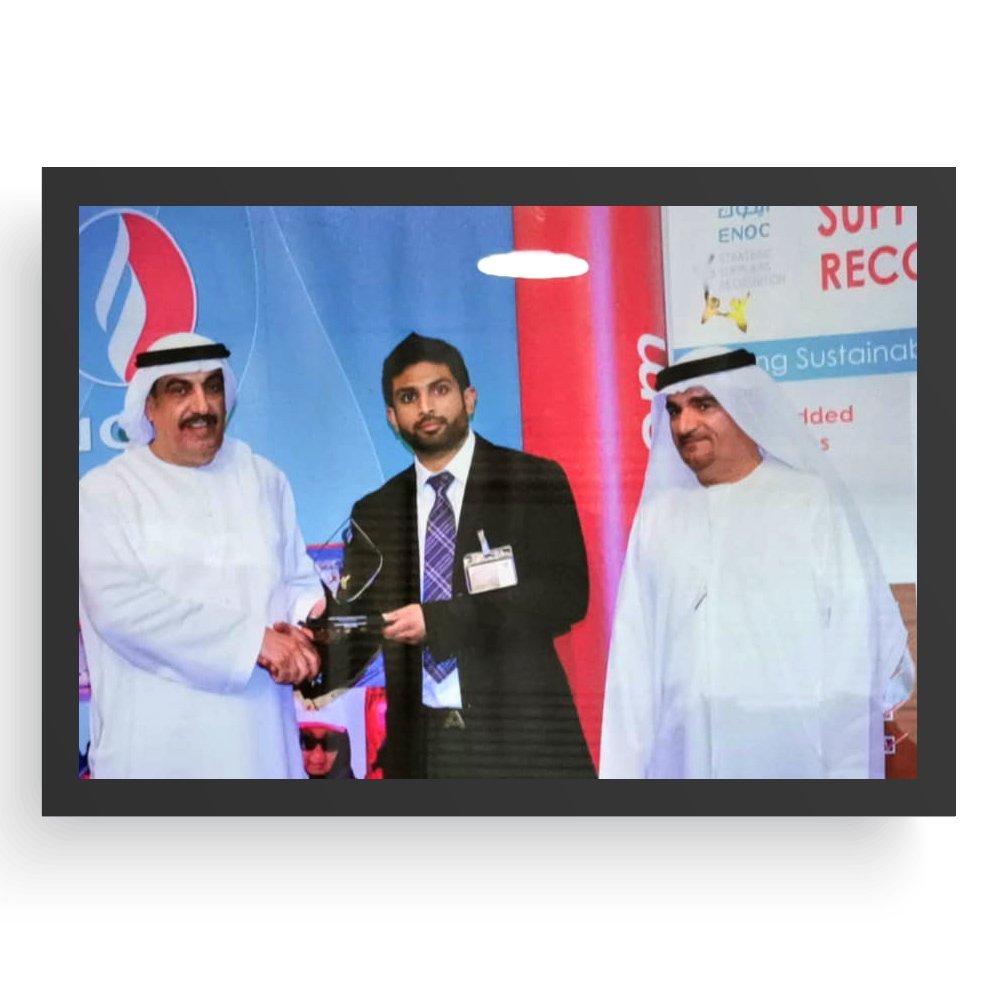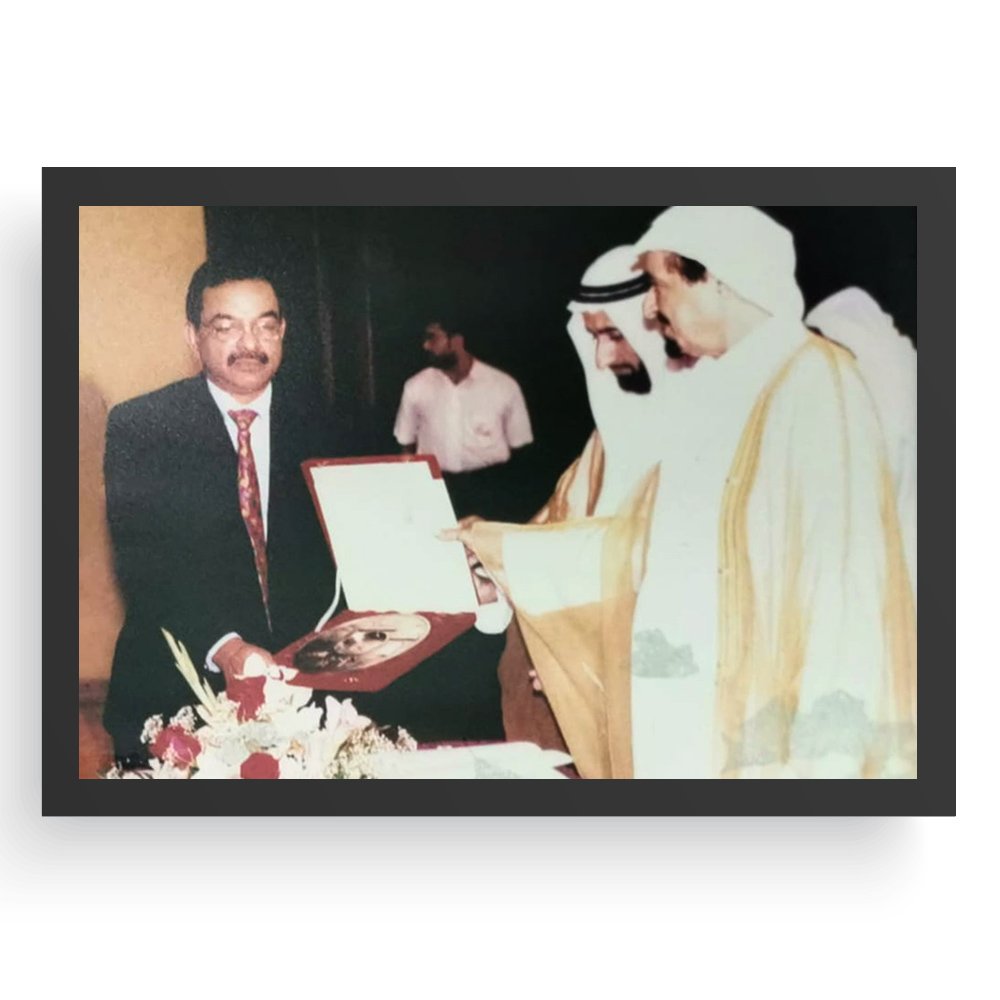 QUALITY AND ENVIRONMENTAL POLICY (IMS)
EMIRATES PRINTING PRESS L L C is committed to:
Achieve ever increasing level of customer satisfaction, trust and confidence through continual improvement in Quality and service.
Emphasis on "Do it Right the First Time and Every Time".
Comply with all applicable Quality, legal and other requirements which relate to environmental aspects.
Aim a "Win –Win" situation for all involved i.e., Customers, Suppliers, Employees and shareholders.
Prevention and control of Pollution & Waste.
Maintain a clean and safe work environment.
Optimize use of resources.
Promote awareness on relevant environmental, health and safety issues among its employees, contractors, suppliers and other interested parties.
Monitor the performance of its Integrated Management System and strive to continually improve the same.
Review the IMS Objectives and Targets at frequent intervals.
IMS Policy will be documented and communicated to all employees. It will be implemented and made available to concerned third parties as required.
Managing Director